Longwood, PA Siding Installation Services
Siding Installation in Longwood, PA
Longwood is a town in Kennett Township in Chester County, Pennsylvania. It's known primarily for housing Longwood Gardens, a famous horticulture attraction about an hour outside of Philadelphia. In addition, it is also served by the finest siding company in the area, known as J.W Tull.
At J.W Tull, our top priority for over 20 years is providing a safety and quality assurance to our clients. Trusting us is just the first step in the process of getting your siding replaced, fixed up, or redone. With over 20 years of experience in the field of siding, we know the best and most efficient methods to help our customers get the project done and assure their house looks its best, while providing safety for your family or employees.
Looking for an Longwood, PA Roofer?
Click here to learn more!
Siding Repair Services in Longwood, PA
If you or someone you know is in need of siding repair, J.W Tull specializes in keeping our customers safe as well as ensuring their property looks its best. Taking on such a project can be stressful, but with the right amount of attention and detail, it can ensure you save a lot of money and time down the road. We take pride in our reputation of providing the best possible siding repair to the area, with over 20 years in the field.
We know how to handle a wide variety of siding issues, so If you need to have your siding repaired or replaced, call J.W. Tull today and receive a free consultation! Unlike other companies, we will recommend the optimal solution instead of pushing for an unnecessary replacement. See why Longwood residents turn to J.W Tull when they have an issue with their siding.
Why Choose J.W. Tull for Your Longwood, PA Siding Installation
First Class Siding Warranties
Get the peace of mind from our siding installation warranties, which come standard with a workmanship warranty of up to 25 years and manufacturer product warranties of up to 50 years.
Financing and Payment Plans
Financing and flexible payment plans are available to work within your monthly budget for all of our siding installation and home remodeling projects.
Free Estimates
We will meet with you at your Landenberg house free of charge to review and make a recommendation on if you need siding repair or siding installation.
Fully Licensed, Insured and Bonded
For your complete protection.  It's the goal of our siding contractors to provide 100% satisfaction to all of our customers.
Siding Special – Save $500 on Siding Installation
Save $500 when you call now. This is a Limited Time Offer, so contact us today to get started with J.W. Tull for your Siding Installation:
» Request a Free Estimate
» Call us at (302) 510-1963
J.W. Tull – Your Trusted Local Siding Contractor
Our team of experienced siding contractors provides siding installation and siding repair services to Longwood, PA.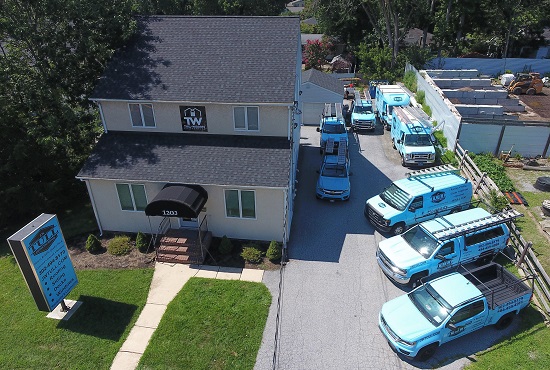 J.W. Tull – Family Owned and Operated Servicing Longwood, PA
From a family heritage of craftsmen, locally born and raised Owner/Operator, Jason Tull and his team will partner with you to design, then oversee all aspects of work to deliver an honest, reliable, quality result that adds value to your home or business. The J.W. Tull team of professional craftsmen are dedicated to delighting our customers.
Our courteous craftsmen respect your Longwood, PA home and family, providing an attention to detail that ensures quality and safe work. Every employee at J.W. Tull respects your schedule and values your time, and you can count on all of our representatives and craftsmen arriving at your home on time and ready to work. We're driven to provide high-end, quality craftsmanship, and an experience that has value far beyond it's cost.
J.W. Tull Longwood, PA Home Remodeling Services
Our roofing, siding, decking and remodeling contractors set the standard with high quality work and attention to detail.
HONEST. RELIABLE. QUALITY WORK.