Prospect Park, PA Siding Installation Services
Siding Installation in Prospect Park, PA
When it comes to siding installation and repair, J.W Tull is the most trusted name in Norwood, PA. Our team of expert siding professionals has years of experience working with all types of siding materials, from vinyl siding to wood siding to brick siding. No matter what your siding needs are, you can rest assured that we have the skills and expertise to get the job done right.
Not only do we offer high-quality siding services, but our team also specializes in roof replacement and repair. Whether your roof is suffering from wear and tear or some other kind of damage, we will work quickly and efficiently to find a solution that fits your budget. So if you're looking for reliable siding installation and repair in Norwood, look no further than J.W Tull! We'll help you keep your home looking beautiful and protected from the elements both now and in the future. Contact us today for a free consultation.
Looking for a Prospect Park, PA Roofer?
Click here to learn more!
Siding Repair Services in Prospect Park, PA
Improving the sides of your home is a surprisingly good investment for its future, whether  fixing up trouble spots, or getting a completely new makeover. Customizing the outside of your home can be a fulfilling process overall, if done with the right kind of attention to detail. J.W. Tull takes pride in knowing that we deliver our customers the best siding repairs in the local Broomall area.
With over 20 years of professional experience in the field, our team has learned how to tackle a wide range of siding projects. If you or someone you know is in need of siding installation or repair services, contact J.W. Tull today and receive a free consultation on your home!
Why Choose J.W. Tull for Your Prospect Park, PA Siding Installation
First Class Siding Warranties
Get the peace of mind from our siding installation warranties, which come standard with a workmanship warranty of up to 25 years and manufacturer product warranties of up to 50 years.
Financing and Payment Plans
Financing and flexible payment plans are available to work within your monthly budget for all of our siding installation and home remodeling projects.
Free Estimates
We will meet with you at your house free of charge to review and make a recommendation on if you need siding repair or siding installation.
Fully Licensed, Insured and Bonded
For your complete protection.  It's the goal of our siding contractors to provide 100% satisfaction to all of our customers.
Siding Special – Save $500 on Siding Installation
Save $500 when you call now. This is a Limited Time Offer, so contact us today to get started with J.W. Tull for your Siding Installation:
» Request a Free Estimate
» Call us at (302) 510-1963
J.W. Tull – Your Trusted Local Siding Contractor
Our team of experienced siding contractors provides siding installation and siding repair services to Prospect Park, PA.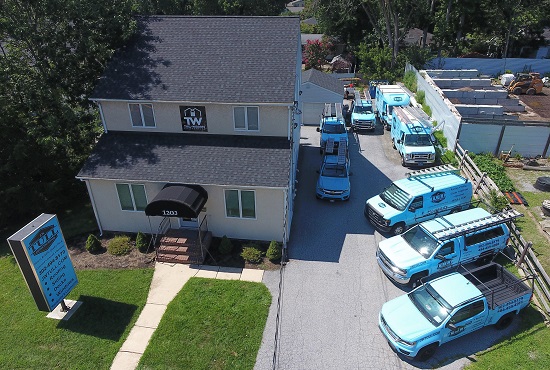 J.W. Tull – Family Owned and Operated Servicing Prospect Park, PA
From a family heritage of craftsmen, locally born and raised Owner/Operator, Jason Tull and his team will partner with you to design, then oversee all aspects of work to deliver an honest, reliable, quality result that adds value to your home or business. The J.W. Tull team of professional craftsmen are dedicated to delighting our customers.
Our courteous craftsmen respect your home and family, providing an attention to detail that ensures quality and safe work. Every employee at J.W. Tull respects your schedule and values your time, and you can count on all of our representatives and craftsmen arriving at your home on time and ready to work. We're driven to provide high-end, quality craftsmanship, and an experience that has value far beyond it's cost.
J.W. Tull Home Remodeling Services in Prospect Park, PA
Our roofing, siding, decking and remodeling contractors set the standard with high quality work and attention to detail.
HONEST. RELIABLE. QUALITY WORK.