Elkton, md Roofing Installation Services
Expert Elkton, MD Roofers
Located at the head of navigation on the Elk River, just before it meets Chesapeake Bay, lies Elkton – a small Maryland town known for its history as "Gretna Green of East." Home to over 15,000 people today and historically renowned due to eloping couples coming here to wed in secret. A modern day fairy tale doesn't stop there though! The citizens now have access to an elite roofing service so they'll never be left out in the rain again; J.W Tull offers unbeatable quality that keeps you covered no matter what obstacles life throws your way!
J.W. Tull is the top choice in Elkton when it comes to roofing services. With expertise in repair, installation, and replacement of roofs, you can trust that the J.W. Tull team will take care of all your roofing needs in a prompt and reliable manner. Our experienced staff provide excellent workmanship and top-notch customer service for an unbeatable price. Make J.W. Tull your go-to option for anything related to roofs – you won't be disappointed!
Why Choose J.W. Tull for Elkton, MD Roofing Installation
First Class Roofing Warranties
Get the peace of mind from our roof installation warranties, which come standard with a workmanship warranty of up to 25 years and manufacturer product warranties of up to 50 years.
Financing and Payment Plans
Financing and flexible payment plans are available to work within your monthly budget for all of our roof installation and home remodeling projects.
Free Estimates on All Elkton, MD Roofing Projects
We will meet with you at your house free of charge to review and make a recommendation on if you need roof replacement or a full roof installation.
Fully Licensed, Insured and Bonded Roofers
For your complete protection.  It's the goal of our roofing contractors to provide 100% satisfaction to all of our customers.
» View our Testimonials
» Request a Free Estimate
» Call us (410) 438-8814
J.W. Tull, your trusted local roofing contractor, provides deck construction, roofing installation, siding installation, and home remodeling services to Elkton, MD.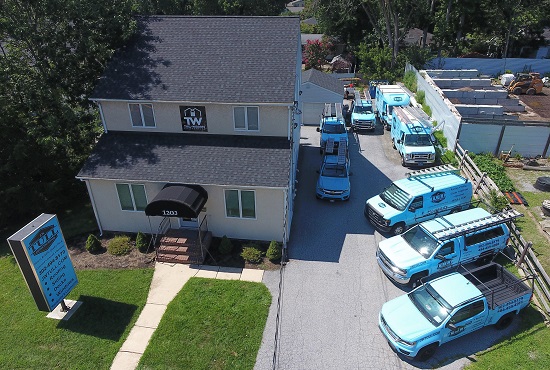 J.W. Tull – Family Owned and Operated Serving Elkton, MD
From a family heritage of craftsmen, locally born and raised Owner/Operator, Jason Tull and his team will partner with you to design, then oversee all aspects of work to deliver an honest, reliable, quality result that adds value to your home or business. The J.W. Tull team of professional craftsmen are dedicated to delighting our Elkton, MD customers.
Our courteous craftsmen respect your home and family, providing an attention to detail that ensures quality and safe work. Every employee at J.W. Tull respects your schedule and values your time, and you can count on all of our representatives and craftsmen arriving at your home on time and ready to work. We are driven to provide high-end, quality craftsmanship, and an experience that has value far beyond it's cost.
Count on J.W. Tull for All Your Renovation Needs in Elkton, MD.
Our roofing, siding, decking and remodeling contractors set the standard with high quality work and attention to detail.
HONEST. RELIABLE. QUALITY WORK.