Kent County DE Roofing Contractor
Roofer and Roofing Services in Kent County, DE
Kent County sits in the center of Delaware and is the least populated of the three counties in Delaware, with a 2010 population of just 162,310 residents. Many older homes throughout Kent County will periodically require maintenance with their roofs in order to maintain their value, curb appeal, and integrity. Founded at the turn of the 17th century, Kent County takes its name from a county in England. The county seat for Kent County is Dover, the state capital and second-largest city in Delaware. Kent County is home to many schools and universities including Wesley College, Delaware State University, and Delaware Technical Community College. Kent County also contains many beautiful historic structures and sites including the First State Heritage Park & Welcome Center, the John Bell House, and the Historic Belmont Hall.
Kent County, DE is no stranger to the weather conditions that affect most counties along the Atlantic coastal plain. When it comes to ensuring that your Kent County home's roof can withstand the harsh wind and rain, the roofing professionals at J.W. Tull are your best option. Contact J.W. Tull Contracting today for a free estimate on your Kent County home's new roofing!
Why Choose J.W. Tull for Kent County, DE Roofing Installation & Roof Repair
First Class Roofing Warranties
Get the peace of mind from our roof installation warranties, which come standard with a workmanship warranty of up to 25 years and manufacturer product warranties of up to 50 years.
Financing and Payment Plans
Financing and flexible payment plans are available to work within your monthly budget for all of our roof installation and home remodeling projects.
Free Roofing Estimates
We will meet with you at your house free of charge to review and make a recommendation on if you need roof repair or a full roof installation.
Fully Licensed, Insured and Bonded Roofers
For your complete protection. It's the goal of our roofing contractors to provide 100% satisfaction to all of our customers.
» View our testimonials
» Request a Free Estimate
» Call us at (302) 510-1963
J.W. Tull, your trusted local roofing contractor, provides, roofing installation, siding installation, decking, and home remodeling services to Kent County, Delaware.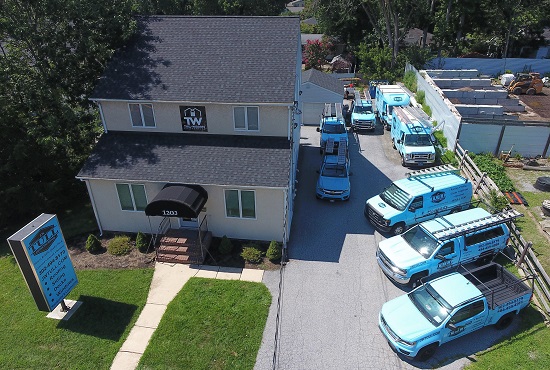 J.W. Tull – Family Owned and Operated, Serving Kent County, DE
From a family heritage of craftsmen, locally born and raised Owner/Operator, Jason Tull and his team will partner with you to design, then oversee all aspects of work to deliver an honest, reliable, quality result that adds value to your home or business. The J.W. Tull team of professional craftsmen are dedicated to delighting our customers.
Our courteous craftsmen respect your Kent County home and family, providing an attention to detail that ensures quality and safe work. Every employee at J.W. Tull respects your schedule and values your time, and you can count on all of our representatives and craftsmen arriving at your Kent County home on time and ready to work. We're driven to provide high-end, quality craftsmanship, and an experience that has value far beyond it's cost.
Count on J.W. Tull for All Your Renovation Needs in Kent County, DE.
Our roofing, siding, decking and remodeling contractors set the standard with high quality work and attention to detail.
HONEST. RELIABLE. QUALITY WORK.