Parkside, PA Siding Installation Services
Siding Installation in Parkside, PA
Parkside, Pennsylvania is a postcard-perfect town nestled in the rolling hills of the region. Instead of major shopping outlets, shoppers can explore unique finds from local boutiques and noshing on favorites at cozy restaurants along the Main Street Historic District. Even better are outdoor activities that Parkside has to offer – whether it be simply strolling through Riverside Park or exploring nature's beauty with friends and family! J.W. Tull provides first-class siding contracting services for this special locale as well.
Transform your home in Parkside, PA with J.W. Tull's top-of-the line siding services! Our expert team can help you find the perfect option to complete any improvement project – from replacing an outdated look to installing a brand new façade. Plus, we offer flexible financing options so that you don't have reach into savings for your dream makeover!
Looking for a Parkside, PA Roofer?
Click here to learn more!
Siding Repair Services in Parkside, PA
J.W Tull is the premier choice for siding repair services in Parkside, PA. Our team of experienced siding professionals are equipped with an extensive knowledge to ensure your repairs happen correctly and look amazing! We only use siding products that guarantee high quality results; you can trust us to provide a reliable solution right away!
Don't let the damage get out of hand. Beat it to the punch and call us now! Our team is dedicated to restoring your home or business back to its original brilliance with swift precision – we're equipped and ready for action as soon as you require our services. Get a free no-obligation estimate when you contact us today, so start making progress towards getting things in perfect condition again right away.
Why Choose J.W. Tull for Your Parkside, PA Siding Installation
First Class Siding Warranties
Get the peace of mind from our siding installation warranties, which come standard with a workmanship warranty of up to 25 years and manufacturer product warranties of up to 50 years.
Financing and Payment Plans
Financing and flexible payment plans are available to work within your monthly budget for all of our siding installation and home remodeling projects.
Free Estimates
We will meet with you at your Parkside house free of charge to review and make a recommendation on if you need siding repair or siding installation.
Fully Licensed, Insured and Bonded
For your complete protection.  It's the goal of our siding contractors to provide 100% satisfaction to all of our customers.
Siding Special – Save $500 on Siding Installation
Save $500 when you call now. This is a Limited Time Offer, so contact us today to get started with J.W. Tull for your Siding Installation:
» Request a Free Estimate
» Call us at (302) 510-1963
J.W. Tull – Your Trusted Local Siding Contractor
Our team of experienced siding contractors provides siding installation and siding repair services to Parkside, PA.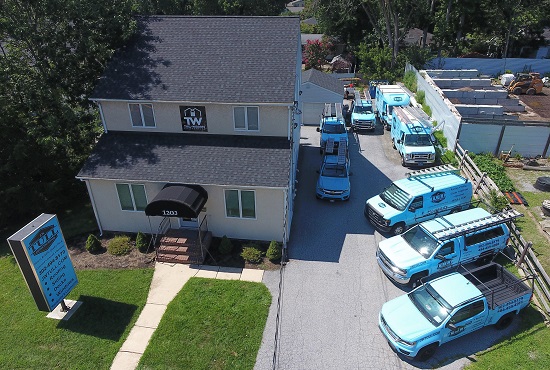 J.W. Tull – Family Owned and Operated Servicing Parkside, PA
From a family heritage of craftsmen, locally born and raised Owner/Operator, Jason Tull and his team will partner with you to design, then oversee all aspects of work to deliver an honest, reliable, quality result that adds value to your home or business. The J.W. Tull team of professional craftsmen are dedicated to delighting our customers.
Our courteous craftsmen respect your Parkside, PA home and family, providing an attention to detail that ensures quality and safe work. Every employee at J.W. Tull respects your schedule and values your time, and you can count on all of our representatives and craftsmen arriving at your home on time and ready to work. We're driven to provide high-end, quality craftsmanship, and an experience that has value far beyond it's cost.
J.W. Tull Parkside, PA Home Remodeling Services
Our roofing, siding, decking and remodeling contractors set the standard with high quality work and attention to detail.
HONEST. RELIABLE. QUALITY WORK.